10. Lemon Ice Box Pie
My granny used to make this with the old timey, classic recipe- you know, the one with the sweetened condensed milk? To this day, whenever I see this on a menu, I just have to get it.
Image from Southern Living Magazine
9. Oak Trees
Beautiful trees at Oak Alley Plantation.
8. Kenny Chesney
His songs are simply perfect for a sunny day of driving on the interstate with the windows down and a great pair of sunglasses.
7. To Kill a Mockingbird
6. Family Names
Nobody does this better than southerners. I love the idea of naming your children after family members who are dear to you- this probably speaks to my love for tradition in general.
5. Monograms
Pillow available from Ballard Designs.
4. Old Homes
Okay, obviously they have old homes in the north, too, but there is nothing like a beautiful old southern house with a big wrap around porch and beautiful windows and doors- preferably with stained glass details.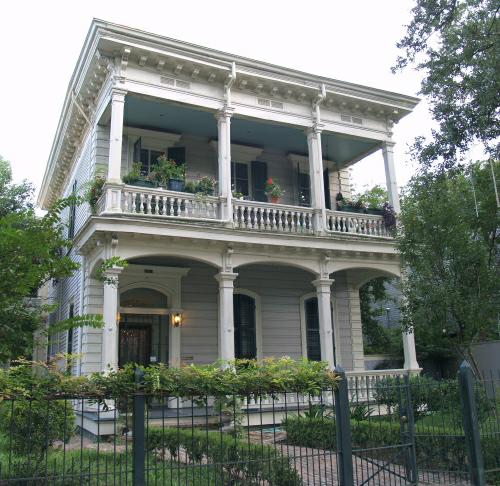 A beautiful New Orleans home.
3. Mardi Gras
Okay, so maybe this should be on a list of things I love about Louisiana, but it is a southern thing, and it's just about the greatest darn occasion ever invented as far as I'm concerned.
Throw me somthin' mista!
2. Coffee with Chicory
1. SEC Football
Okay, so maybe the other things I love about the South shouldn't be in any particular order, even though they are numbered. Even so, this is undoubtedly my FAVORITE thing about the south.
The fall in the south is the most wonderful time of the year, any college football fan will tell you that.
The SEC is undoubtedly the greatest conference in college football. I mean, did you pay any attention to football today, alone?
Note: As I am writing this post, I am yelling at the TV watching the LSU/ Florida game on TV.
And just to end this post on the highest note possible, here is a photo of my favorite LSU football player of all time.
Glenn Dorsey, if you ever read this- I love you!