Today, both Kelly from
Kelly's Korner
and
The Nester
are featuring holiday home tours on their blogs, and I am joining up.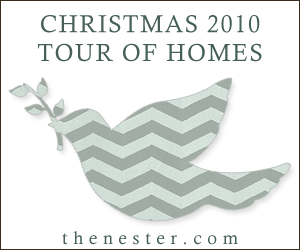 Here is some of my décor:
Isn't this cute? It says: "Visions of Bowl Games Danced in Their Heads."
And, for your extended viewing pleasure... here are some photos I took of the People's House all decorated up for the holidays... you know which one I mean:
The White House.
Thanks so much for stopping by! Be sure to check out more great tours from Kelly's Korner and The Nester!